After a long wait, Back 4 Blood was officially released in October 2021. This is a first-person shooter game that gamers expect and are excited about. Many players have set a lot of expectations for this game. And did not disappoint players. Back 4 blood is really a game that brings great experiences to gamers.
Are you still vaguely specific about this game? Want to know more about the specific content about it? If so, this is the article you are looking for. Follow the article to know more about this popular game.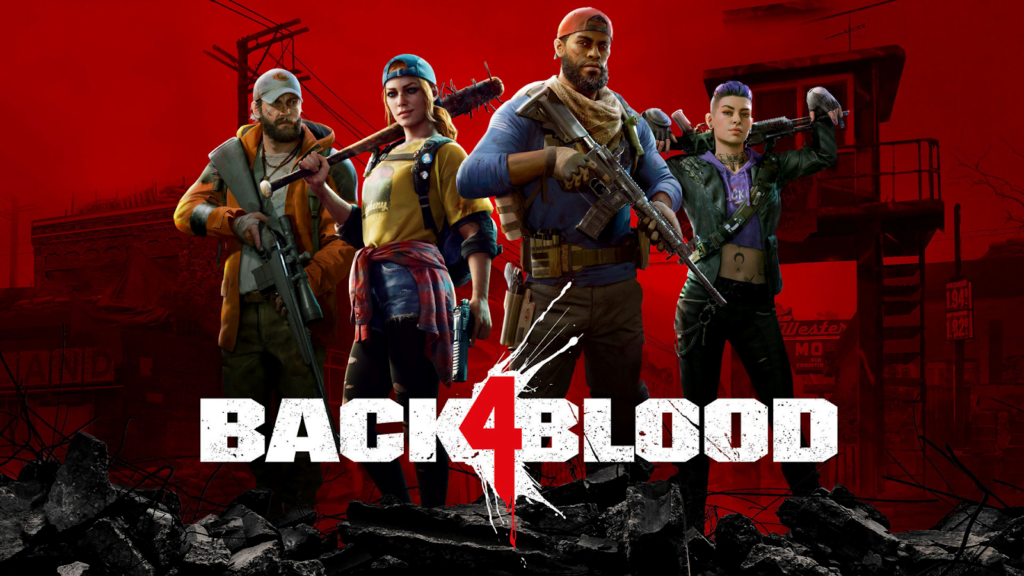 Content
Back 4 blood is a Zombie-themed first-person shooter game that has received great love in the gaming community and received many very positive reviews. Back 4 blood is a game that will take players on a journey to fight and survive in the midst of a raging zombie pandemic, ravaging many areas around the world.
Background of the game
Back 4 blood is set in the Canadian city of Quebec City. The researchers here conducted a study on a new specimen named "Ridden" to serve the requirements of the work. However, due to a small mistake, these specimens suddenly turned into zombies and spilled out, gradually their number gradually increased exponentially. Now it has spread globally and humanity is under serious threat.
Players will play a character in the game with 3 more friends who will go together to destroy and save the world from the Zombie pandemic. This is a survival game that is too familiar in the gaming community around the world. This will be a great game for pc in this 2022.
Improvements of Back 4 Blood
Back 4 blood is a game with a lot of great improvements compared to the old version:
The first thing that Back 4 Blood brings to gamers is that you can upgrade the parts on the gun to increase efficiency, such as increasing the speed when aiming, or the rate of fire, the number of bullets … You can upgrade it by completing quests or winning matches in the game,, or you can use Copper to buy it. But one point to note is that when you hold a gun, you can only by lifting components level of that gun, for example, if you are holding a shotgun, you cannot buy and use Piston components.
The second thing is that you will have to "farm" (also known as "plow" money) There are two types of money, one is Supply Point, you will have to complete the assigned task. This is quite an important currency to buy cards or some other equipment. The second currency is called Copper, used to buy items such as bombs, mines, guns, melee weapons, healing kits … This is a fairly new feature of black 4 blood, when it requires players to will have to interact and calculate more or just work hard to kill a Zombie without doing tasks with other players.
And the final improvement point, Back 4 Blood's character system is much more diverse and interesting than Left 4 Dead, when they are not only characters holding weapons to kill pure Zombies, but each person in the game. Each of them has unique abilities, depending on the game and the map. However, we can also divide them into 4 groups as follows: Attack, defense, mobility and support, and we will have to choose when playing.
Characters in the game
Hoffman
+ Overall effect for the team: Increases the number of bullets by 10%.
+ Increased chance to find more ammo after killing a Zombie.
+ Add a place to store attack items.
Walker:
+ General effect for the team: Increases health by 10.
+ Killing a Zombie with Headshot (shot in the head) will increase accuracy by 20% for 5 seconds.
+Damage increased by 10%.
Doc
+General effect for the team: Increases damage resistance by 25%.
+ Heals allies for 25 health each level.
+Increases healing efficiency by 20%.
Mom
+ General effect for the team: Revive a life for a teammate.
+ Instantly revive teammates (once each level).
+ Add a location to support teammates.
Holly
+ General effect for the team: Increases physical strength by 25 points.
+ Restores 10 HP for every Zombie kill.
+10% increased damage resistance.
Evangelo
+ Overall effect for the team: Increases movement speed by 5%.
+ Ability to break out of siege every 60 seconds.
+ 25% increase in physical recovery efficiency
Karlee
+ Overall effect for the team: Increases operation speed by 25% (eg unlocking).
+Ability to sense danger ahead.
+ Add an empty space for mobile equipment.
Jim:
+Team Effect: Increases DMG by 10%.
+ Headshot enemy will increase damage by 5%, stacking up to 50%, if Jim is damaged, this effect will be lost.
+ 25% increase in aiming speed.
Sound and graphics
Sound
Black 4 Blood possesses extremely excellent sound quality. Players will easily feel the gunfire, the screams of the Ridden, or the sounds of destruction and explosions during the battle. Besides, each character is voiced with different voices, adding more attractiveness and attraction to the game and giving players the best experience.
The sound effects in the battle from humans to Ridden are all perfectly designed, contributing to the best experience, adding to the appeal of this game.
Graphics
Back 4 blood possesses very high quality graphics, with both extremely impressive character creation and Ridden. The context in the game is carefully polished with harmonious, true colors, bringing the most detailed, accurate and perfect feeling.
Besides, there is also a system of visual effects in the game during the battle such as elements when the weather changes or when the character moves, attacks, … are the most realistic to every detail.
Summary
Back 4 blood is a really great game, from the plot, content, characters to sound images, it is worthy of a best game that you should experience. Download the game and have a great experience with it.