Toni Kroos goes down in Real Madrid's history as the German player with the most matches in history and he is pleased with this achievement.
Toni Kroos – a 32-year-old midfielder is considering retirement at the age of 33 after the 2022/23 season ends, this is also the time when Kroos' contract with Real Madrid expires.
The Bernabeu team hopes the German midfielder reconsiders his decision to retire at the age of 33. Because his career is still far in the future, his presence is essential for Real Madrid's defense.
Real Madrid try to keep Toni Kroos
Toni Kroos joined the Spanish Royal team in 2014 and has never been shaken up in this giant squad. He is currently an important pillar in coach Ancelotti's plan to win La Liga as well as conquer the C1 Cup.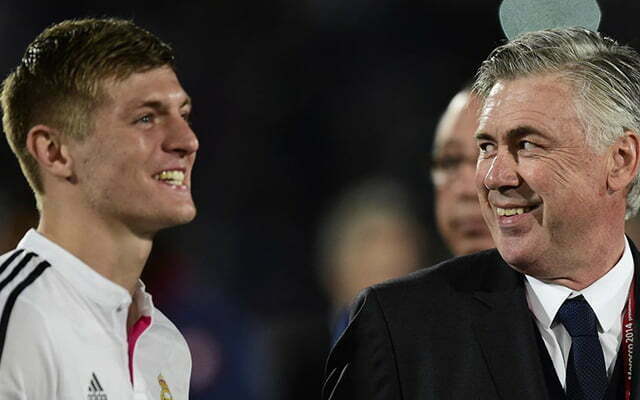 Spanish media revealed that Real Madrid is trying to convince Toni Kroos to postpone his retirement plan after the 2022/23 season ends. The German star shared that he had cherished the plan to retire for a long time.
He wants to leave his playing career when he is still at the peak of his form and has no intention of moving to play in lower-level football environments.
"Los Blancos" management hopes Kroos reconsiders his decision. The former Bayern Munich star is only 32 years old and Real Madrid believes he can maintain his top form for a few more years. However, Kroos once admitted his intention to retire when his current contract with Real Madrid ends.
Toni Kroos surprised when announcing his retirement.
"I'm sure I'm a player who doesn't want to play until I'm 38," Kroos said in 2020, "I still have a 3.5-year contract with Real until the summer of 2023 when I turn 33.
It's the perfect time to consider retiring."
In addition, the decision to leave the field of Toni Kroos because he wanted to give up the playing field to other potential young players such as Aurélien Tchouaméni, and Eduardo Camavinga,…
Kroos' intention to retire once surprised many people because European football saw more and more players playing over the age of 35, such as Ronaldo. He just officially retired recently when he was about to turn 38.
Another example is Kroos' teammate at Madrid, Luka Modric. At the age of 37, the Croatian star still plays an important role in Real's squad this season. The Royal Spanish Club even left open the possibility of extending Modric's contract until the age of 38.
Kroos himself also plays an important role in coach Carlo Ancelotti's squad. Midfielder born in 1990 played 8 out of 9 matches this season, a total of 533 minutes playing on European grass.
Read more:
Real Madrid has offered to extend his contract.
Real Madrid has offered Kroos a new two-year contract. But was rejected by him.
It is known that Kroos wants to close his career in digital shorts because he ran out of motivation after holding all the glory at Real Madrid. In addition, he wants to give up the playing field to other potential young players like Aurélien Tchouaméni, and Eduardo Camavinga,…
Previously, Kroos also parted ways with Germany after EURO 2020 for the same reason. Although the German Football Federation and coach Hansi Flick tried to convince him, the player born in 1990 did not change his decision.
Follow the Zululion website for more updates on various knowledge.
Source: