Ariana Grande must be a name that is not new to music fans when her songs continuously occupy the charts on Billboard. Let's discover the achievements on Billboard that Ariana Grande has achieved in the past time with Zululion!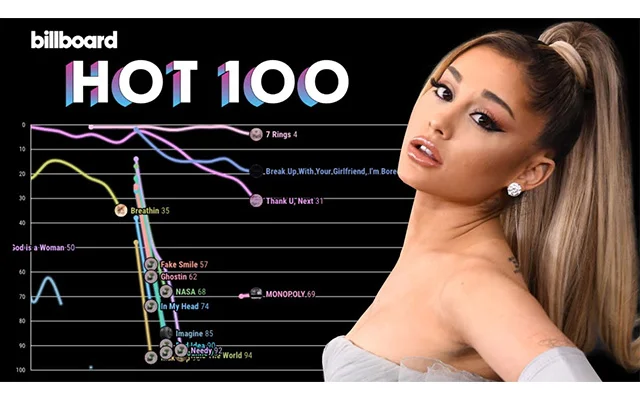 Entered Showbiz at the age of 14
From a young age, Ariana soon revealed her passion and artistic talent. During her high school years, she always worked hard to achieve her dream.
At the age of 14, she decided to fly to Los Angeles to express her desire to record an R&B album with a lot of artist management. However, everyone looked down on her, saying that this was a pipe dream for a 14-year-old girl like her. Instead of encouraging and supporting her career path, many people advised her to continue trying to study in school instead of having to embark on a musical career at such a young age.
Ariana still did not give up and continued to pursue her dream with a small role in the play 13 on Broadway. Unexpectedly, in this role she was extremely successful and she began to be noticed by many people. In 2009, she continued to participate in a TV series "Victorious" with the role of an innocent girl with red hair. It was this role that helped make Ariana Grande's name more known and Grande took it as the foundation to start her music career.
Ariana Grande's songs take all the top spots on the charts At first, Ariana Grande only covered songs of famous singers, but thanks to her powerful voice, she attracted the attention of Republic Records CEO and brought home her first contract. Within 4 years, Ariana Grande has achieved unexpected success in her career with her hits continuously on the Billboard charts.
Achieved many records on the "Billboard" chart
When it comes to female singers who have achieved high rankings on the Billboard charts, it is not uncommon, and even Ariana is not the one who has repeatedly reached the top 1 position on the chart, but she is the first person to own the list. 4 hits topped this chart when just released. Indeed, this is a number that not everyone can achieve, especially a young person like her. Indeed, Ariana Grande's path of persistently pursuing musical dreams makes many people admire her and proud.
2018 was a memorable year for Ariana Grande when she overcame many famous seniors such as Lady Gaga, and Taylor Swift to win the "Woman of the Year" award voted by Billboard magazine herself. This title is extremely well deserved for her because of the achievements she has possessed.
Read more:
In addition, Billboard magazine also noted that She is the only female artist to hold three consecutive top spots on the Billboard Hot 100 at the same time, slowly following the achievement of the Beatles in 1964. More, Ariana Grande is also a female artist with many songs appearing at the same time in the top 40 of the Billboard Hot 100, which are 11 songs on her Thank U, Next album.
In 2020, Ariana surprised the audience again when her latest song with lady Gaga, Rain On Me, climbed to the top 1 position after just being released.
It can be seen that for 3 consecutive years, Ariana's songs have continuously ranked high on the Billboard charts. Until now, Ariana Grande has proven her real talent and efforts with many impressive achievements. In the future, hopefully, Ariana Grande will continue to release more hits. Follow Zululion for more on Ariana Grande and more celebs!
Source: