Recently, it was revealed that Kim Kardashian damaged the historic dress of female star Marilyn Monroe because of her arrogance. You will have to pay a million dollars for ruining this dress.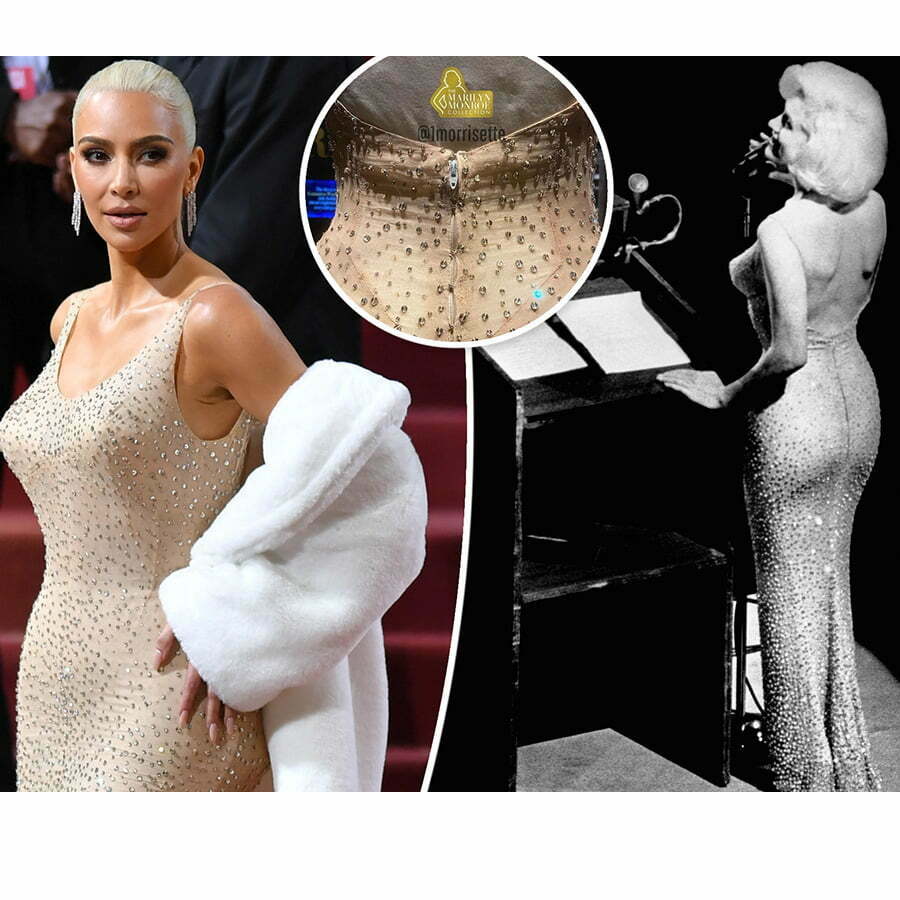 Read more:
Kim Kardashian ruined her dress
On the day of the 2022 Met Gala Kim Kardashian attended the Gala in a familiar dress that, when you look closely, will see as the dress of the late female icon.
After she wore the dress to the Met Gala, the dress was frayed and a few crystals fell off.
On June 13, collector Scott Fortner posted on his personal page a photo of a Marilyn Monroe dress taken by visual artist and creative director ChadMichael Morrisette. The photo compares the design of the dress before and after she wears it.
It is known that Fortner is a knowledgeable expert on Marilyn Monroe, who owns one of the world's largest female celebrity memorabilia. He also added to People that "I am extremely disappointed to see the dress damaged significantly. The dress's original fabric is now unavailable. Many crystals dangling from the thin thread. The surface of the fabric is also stretched a lot."
Dress designed for Marilyn Monroe
Not every body shape is suitable for the outfit because it is designed specifically for Marilyn Monroe's body. This gorgeous outfit also has a story to tell as it has been modified over the late icon's body using a material that creates the effect of a second skin. Featuring over 2,500 hand-stitched crystals. This is the work of Jean Louis Scherrer.
This is the dress Marilyn wore on her last public appearance before taking her own life. She shined on John F. Kennedy's birthday in 1962.
When she knew she was performing for her birthday, she contacted Jean Louis Scherrer: "I want you to design a gorgeous, historic, one-of-a-kind dress that only I can wear.".
It is known that at Jean's workshop, she stood naked in the middle of the room for the designer to use the draping technique – wrapping the fabric and positioning it directly on the body or mannequin. This technique helps the skirt to fit as close to the female star's curvy body as possible. He also uses leather-colored fabrics imported from France, carefully layered so that the stars don't need to wear bras.
Kim Kardashian pays 10 million dollars
But it ended up being ruined by Kim because she wanted to stand out at the Met Gala. To do so, she spent weeks preparing for the event and even lost 7 kg just to fit the dress. And she wore a dress designed according to the skin tone of the late female star combined with jewelry from Swarovski.
But just because she did not anticipate the female billionaire's curves, she damaged the whole dress and even dropped some diamonds and broke the thread to pay for that she had to pay 10 million dollars in damage to the museum, but she also achieved her goal of being a prominent attraction at the Met Gala.
Because of this issue, she also met many mixed opinions that she was too arrogant because there were so many beautiful dresses out there that she did not measure her strength to choose the one with historical value.
Morrisette said: 'I was hired by Julien's Auctions in 2016 to display the historic dress as well as the entire Marilyn Monroe auction. I handled more of her stuff than anyone else in the world: Driver's license, high school yearbook, and ID card upon arrival in Korea. I touched everything that was ever sold, including that dress. I know this dress and the damage is very obvious. I left Ripley's gallery in tears. I covered my mouth with my hand, trying to hold back because I couldn't believe it."
She was met with a lot of criticism, with conservation experts concerned that her wearing the outfit would damage the outfit due to the movement of sweat, humidity, and heat. However, contrary to public opinion, the family of the late female star thinks that maybe the Hollywood legend will be happy when Kim Kardashian wears her dress.
Kim Kardashian is a 41-year-old billionaire who is known for revealing sex clips with her ex-boyfriend and family reality show Keeping Up With The Kardashian. She is a beauty with hundreds of millions of views on social networking sites.
Sources: