David Beckham was one of the guests invited to attend the F1 Grand Prix. When he was reminded by the media about his old club and interviewed his feelings about MU's past season. Beckham was a bit disappointed in the performance of the Red Devils last season, a famous club that finished sixth in the Premier League.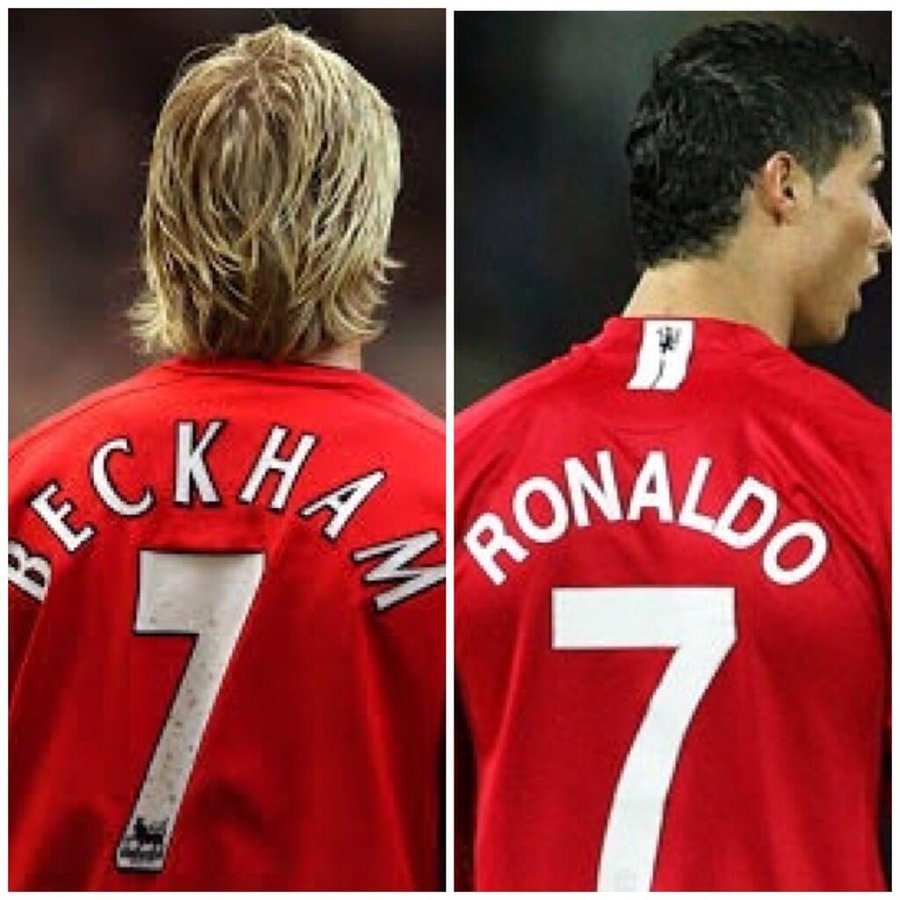 The enthusiasm, excitement of filling all the seats of the fans has not yet paid off, but David Beckham still believes that the upcoming improvements of Manchester United will help the club have more prosperity, including the arrival of new coach Erik ten Hag from Ajax.
Do you know what the number on Ronaldo's shirt when he started playing in the early days was? It's certainly not the legendary number 7 now, the number 7 has been associated with Ronaldo since he started joining Manchester United.
Read more:
RONALDO inherits number 7 jersey from DAVID BECKHAM
A great honor for Ronaldo in his football career is inheriting the number on the shirt of the legendary British player – David Beckham. "When you're handed the number 7, it doesn't matter who has worn it in the past or what that player has achieved in the past," Beckham told the Manchester Evening News.
When wearing the shirt bearing the reputation of football legends, it means that the MU club sends all its hopes to Ronaldo with the hope that he will try harder to go beyond the picture. The ball of the legend David Beckham has had before, must be better and have many achievements for his football career and for the club Manchester United.
Football fans always expect to have another legend for them to love. This great pressure has left many players before Ronaldo struggling to find awards and recognition from everyone. George Best, Eric Cantona – 2 legendary players who once wore the number 7 shirt and spent days of effort.
In football, one way to prove yourself is to compete and achieve as many achievements as Ronaldo did. The results are an almost absolute measure of a footballer's true efforts.
A player with a good playing style will definitely be trusted by the coach to play on the field, good technique is not afraid of no achievements. To make your name a football legend requires personal trade-offs.
WHAT DAVID BECKHAM SAY ABOUT RONALDO?
David Beckham said: "Clearly, Cristiano is one of the best players of the last 15 years, along with Lionel Messi, the striker of Paris Saint-Germain." He added: "To see Ronaldo stay, hopefully stay at United is important for the fans. I think it's important for him.
The British legend is always humble and makes sincere comments from his point of view. In addition to the comments about Ronaldo when interviewing with the media. He also shared a bit about the number 7 he used to wear. "It's always been an inspiration to me. It's never been my shirt," he said. "It's George Best, Bryan Robson, Eric Cantona. The only reason I want to wear the No. 7 shirt is because of these players. The No. 7 shirt is a special Manchester United shirt. It's always been like that and always will be."
PLAYERS HAVE DONE THE LEGENDARY NUMBER 7 Shirt
Andrei Kanchelskis (1991-1992)
Kanchelskis made 135 appearances in four years at Man United. The former Russian international has had a great time with the number 7, the number on his shirt has only changed to 14 since Eric Cantona arrived.
Eric Cantona (1992-1997)
Cầu thủ người Pháp, nhận được nhiều sự kỳ vọng nhưng rồi lại gây thất vọng với 1 lỗi lầm không thể nào sửa chữa. Trong một trận đấu, không biết thực sự là vô tình hay cố ý mà cầu thủ này đã tung một cú đá, tấn công người hâm mộ đang chứng kiến trận đấu. Cú đá mạnh bất ngờ của anh đã khiến khán đài hôm ấy náo loạn, và một mức án treo giò là hình phạt anh phải nhận lấy.
The French player, received a lot of expectations but then disappointed with an irreparable mistake. During a match, it is not known whether it was intentionally or unintentionally that this player launched a kick, attacking fans who were watching the match. His sudden strong kick caused a commotion in the stands that day, and a suspension was his punishment.
David Beckham (1997-2003)
The former England captain gave up all the aura he built from the No 10 shirt, switched to wearing the No 7 shirt for five years and ceded this legendary number to Ronaldo from 2003-2009.
Michael Owen (2009-2012)
Replacing Ronaldo's No. 7 position at Manchester United, Owen has had a smooth start, but perhaps he was unlucky to stick with MU for a long period of 3 years and only scored 17 goals. With this poor performance, the number 7 shirt continues to change hands.
Antonio Valencia (2012-2014)
Things did not seem to be going well for the male midfielder, so he only stuck with MU for only 3 seasons, and then he returned to the shirt that made his name, the number 25.
Angel Di Maria (2014-2015)
Under coach Louis van Gaal, Maria did not have time to show her talent when moving to MU, he was hastily sold to PSG club (Paris Saint-Germain).
Memphis Depay (2015-2017)
An impressive young player, successful at Barcelona, it seems that his form will still be stable. But Depay was unlucky when he decided to move to Manchester United. It is hard to blame the male player when the responsibility is so great that it is given to a 21-year-old young player.
Alexis Sanchez (2018-2019)
The number 7 shirt continued to find a suitable owner for him, when Sanchez brought a pathetic achievement, 5 shots for 45 times, with a high salary he received while playing at the Red Devils, which according to MU publicly. His dad is around £500,000/week.
Edinson Cavani (2020-2021)
Flourish the fate of the legendary number 7 shirt since it was worn by Cavani. The Uruguayan is still in good form, but because of Ronaldo's return, he has switched to wearing the number 21 shirt.
Cristiano Ronaldo (from 2021 to now)
Returning to the Red Devils, Ronaldo returned to the number 7 shirt he used to wear, ending a long series of days with the number 7 shirt constantly changing owners to find the most suitable person for its position.
Looking at the long list of players who have worn the number 7 shirt at MU above, we will know that it is not easy to put on this legendary shirt. Not everyone possesses talent like Ronaldo, it is not easy to shoulder the great expectations that fans expect. That's why it's not easy to become a football legend like Cristiano Ronaldo.
Read more:
Source: