The lines of Multiplayer online games are increasingly diverse with countless different game genres. Online multiplayer games always bring players great moments and unprecedented experiences. Let's take a look at the best multiplayer games in 2022 that any game fanatic should not miss.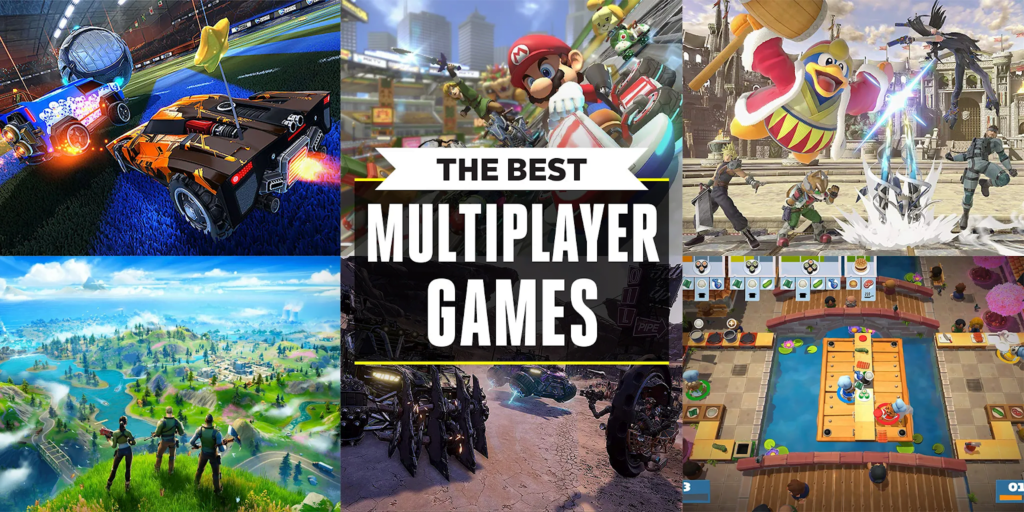 War Thunder
Released by Gaijin Entertainment, War Thunder must be no stranger to gamers.This is a free multiplayer vehicle battle simulation game. Initially, War Thunder was just a flight simulation game with more than 200 planes and a few modest vehicles, but now it has been expanded to include more types of vehicles for players to play for free and have great moments with War Thunder
In War Thunder, simulation game modes and extremely detailed ballistic models. Players will be involved in 1v1 battles between 2 extremely fierce tanks with accurate bullets and destroy the entire opponent's army. War Thunder's graphics and sound system are extremely well-invested, with realistic, vivid images and sharp sound to give players the best experience. This is a certain online multiplayer game you must try in 2022.
World of Tanks
World of Tanks was released in 2010 by Wargaming. This is a Best multiplayer game that you must try.In the game, players will have a great experience when participating in extremely intense battles, rushing attacks of enemies, and you will have to try your best to fight and defeat them.
World of Tank is an online multiplayer game with a large number of players around the world so if you don't have your own teammates don't worry, there will always be a lot of people who can form a team with friends. Your job is to try to destroy all enemy tanks by different means and you can also sneak into your opponent's base so you can capture it from the inside and win easily.
This is an extremely cool and interesting Multiplayer online game. The more battles you participate in, the more you will discover. Let your friends experience great moments together with World of Tanks.
Valheim
Valheim is an open-world Viking-themed survival game. Joining the game, you will join nine other friends to survive together in a wilderness in Northern Europe. You and your friends will have to surprise attacks by wolves or ferocious hounds from the dark forests. Players need to find materials to craft weapons and armor to defeat dangerous enemies.
Valheim's experiences are meticulously designed to make your battles completely new and real, and combine them with exciting adventures with your friends. Valheim is a great Multiplayer online game that you should try.
Among Us
Among Us is probably a game that is no longer strange to everyone. It was developed in 2018 by InnerSloth. Although it was released in 2018, it will not be until 2020 Among Us that it will become famous and get more participants.
Players will have to play as astronauts on spaceships or space bases and begin their missions. In that crew, there will be one or two people who are impersonated aliens sneaking into the team and will find opportunities to kill the team members. And players must find these impostors by holding an emergency meeting to find this impostor. The game will end if the impostors have been found or the astronauts have been killed or there are fewer imposters.
Currently, with the advent of many famous games in many different genres, Among Us seems to have been overshadowed. Part of that is because the graphics in today's games seem to have lagged behind. Besides, currently on the game market, there are many extremely attractive and thrilling games in many different genres. However, if you and your friends are feeling bored, then Among Us is not a bad choice!
Destiny 2
Destiny 2 is a first-person multiplayer shooter action role-playing game. Participating in the game, players will have to play as a talented hero chosen by all of humanity to be able to save the world. To be able to do this, players need to coordinate with many other forces in the city and their army to be able to fight the Red Legion and save this world.
The vast world is waiting for you to explore and fight off the invaders. Are you worthy to be the hero that all mankind has chosen? Join the game to be able to experience the unexpected!
Apex Legends
If you are a person who is passionate about action shooting games, then Apex Legends is a game that you cannot miss in 2022. This is also a free multiplayer game released by Respawn Entertainment in 2020. In Apex Legends, players will experience extremely intense battles with many different weapons. Players can find it on the islands they pass through or can get it on enemies when defeated at your hands.
The graphics in the game are extremely realistic, bringing a great experience to the players. The eye-catching gun battles or exciting moments when fighting with your teammates are really great, aren't they? This deserves to be the best multiplayer game in 2022 that you must try.
Counter-Strike: Global Offensive
Counter-Strike: Global Offensive is a Free multiplayer game released since 2012. This is an action game in which players will have to team up with their teammates to fight the enemy. Counter-Strike is the most multiplayer action game in the world, the tournaments in the game are extremely prominent and thrilling. The graphics and sound system in the game is extremely realistic, creating a great experience for players
Since its launch, Counter-Strike: Global Offensive has achieved an extremely large number of players and has very positive reviews from the gaming community. Although it is a game that has been released for a long time, the graphics, sound, and graphics are still excellent. This is a great game that you must try
Death Stranding
Perhaps Kojima Productions did not disappoint gamers as well as those who have experienced it when it released the Death Stranding game. As soon as it was released in 2019, it quickly caused a fever in the gaming community. The game is set during a great flood in the United States. The pests began to spread across the globe after this cataclysm, and the lands were also affected by this cataclysm, they were split into many patches.
The player's task is to go from place to place, connecting settlements together. Players will have to go through a lot of difficulties to be able to perform this task. You'll have to walk along long winding paths or cross steep hills with tricky puzzles to reach the settlements and gather them together.
Realistic images and vivid sound together create a great attraction for Death Stranding in a very realistic and wonderful game. For those who are passionate about adventure and adventure, this is the best multiplayer game in 2022 for you.
Diablo III
Diablo III is a hack-and-slash action role-playing game developed and published by Blizzard Entertainment in 2018. Players are tasked with fighting monsters to collect loot for themselves to have can be promoted to a higher level. Diablo III brings a very exciting and satisfying experience to players as their characters level up, becoming stronger.
Although the plot is not attractive, its experience is extremely wonderful. The graphics in the game, although not great, are still very vivid, giving players memorable moments. This is also a great online multiplayer game that you can try out
The above is a summary of the best multiplayer games in 2022. Choose your favorite games and experience them.
Read more: