The lines of Multiplayer online games are increasingly diverse, with countless different game genres. Online multiplayer games always bring players great moments, unprecedented experiences. Please continue with Zululion to part 2 of the best multiplayer game series in 2022 that you can refer to.
Forza Horizon 5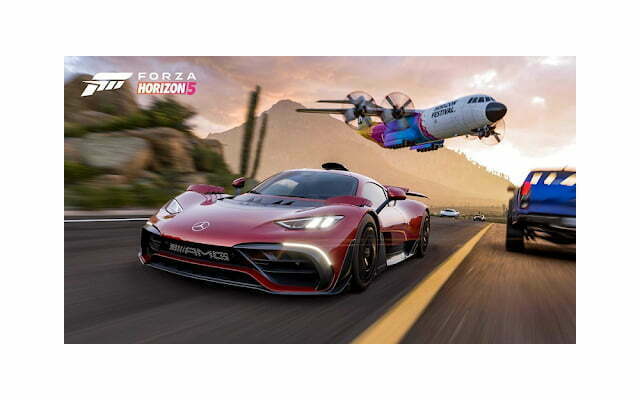 Forza Horizon 5 is a super hot hit multiplayer racing game today. The game is set in an open world with many beautiful scenes in Mexico with 11 different ecosystems such as: Guanajuato city scenery, desert scenes, volcanic eruptions, jungles… In the game, players will experience different things. Great feeling with thrilling races. For speed enthusiasts, you will experience more than 426 different car collections. This is a best multiplayer game that you should not miss.
It Takes Two
Just like its name, the game It Takes Two requires 2 or more players. These two players will be playing the role of Cody and May, a married couple who are at odds with each other and are in danger of going to divorce. Unexpectedly, they were turned into two dolls that their daughter had created. Cody and May will have to work together to overcome many difficulties and challenges to be able to return to being human. Will they overcome those challenges and mend their feelings for each other? Let's play the game and experience these interesting things.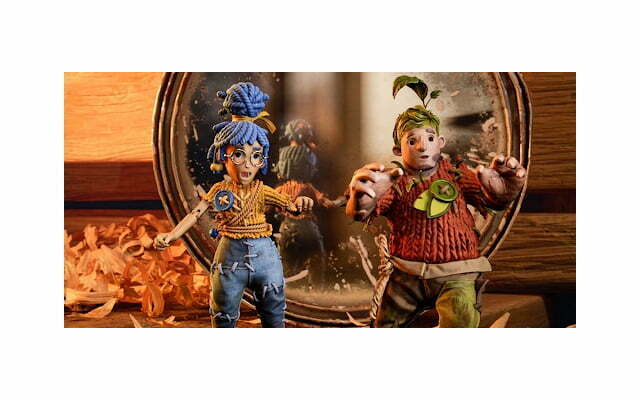 The game's graphics have a 3D style that makes each character's lines and gestures extremely realistic, creating an interesting feeling for the player. The graphics of the game are very lively, the background sound is quite funny. The sound around the game is also very vivid, from the sound of metal colliding when fighting, footsteps, or the sound of objects breaking are surprisingly realistic. This is an online multiplayer game that you must try in 2022.
Read more:
Jackbox Party Pack
If you are looking for a game that can help you organize interesting games, then Jackbox Party Pack is a perfect choice for you. Jackbox Party Pack has a total of 5 main levels: Drawfull Animate, The Wheel of Enormous Proportions, Job Job, Poll Mine, Weapons Drawn. With each level, you will have to perform different tasks that have been given in the game. In each time you successfully complete the mission you will be accumulated a number of points, the score will be calculated after you have passed all 5 levels and the person with the highest score will win.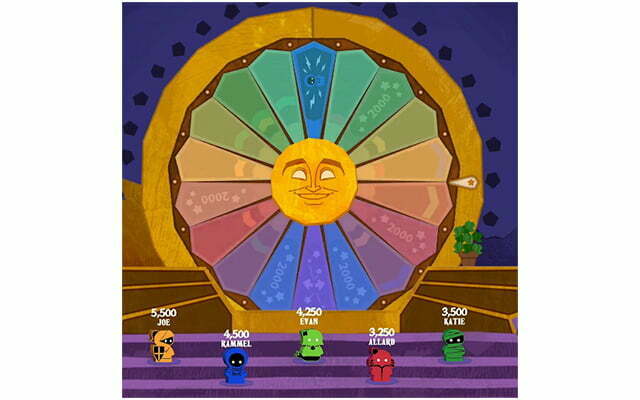 Although only possessing 2D graphics, the images in the game are still very funny and cute. The game also has extremely fun and catchy sounds, each game screen will have different sounds so you will never feel bored while playing the game. This is a multiplayer entertainment game that you should try once.
The King of Fighters XV
The King of Fighters XV is a multiplayer action game. The players will participate directly in combat with each other in a 3v3 mechanism, in which each team consists of 3 players with 3 roles of Point – Middle – Anchor. Players will be able to choose their favorite characters among a series of available characters to fight against the enemy. Each character will have their own special attacks and skills. Players also need to coordinate with other players to be able to win.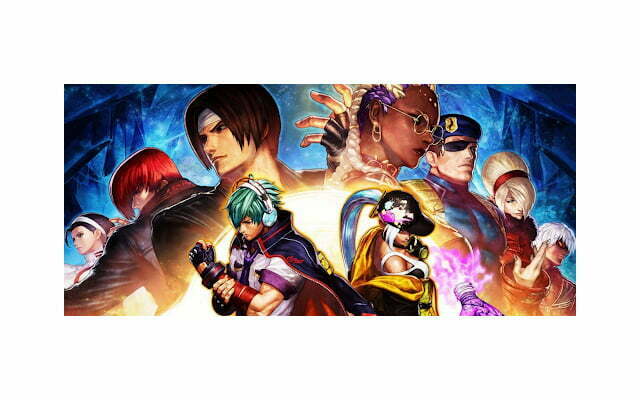 The graphics of the game must be called too convincing, there is nothing to criticize, all the character graphics in the game are harmonious and vivid. Besides, the game also has many spectacular fire and explosion visual effects to create top-notch, eye-catching combat. The sound of The King of Fighters XV is no less, each character has his own voice different from his personality.
This is a Multiplayer video game that has a very large number of players and is highly appreciated by gamers.
Mario Kart 8 Deluxe
Mario Kart 8 Deluxe is an extremely attractive multiplayer racing game that was first released in 2014. Players will get a "top-notch" experience from start to finish. There are extremely thrilling and suspenseful chases. In general, Mario Kart 8 Deluxe will definitely be a game that gives you a feeling of life that can no longer be criticized.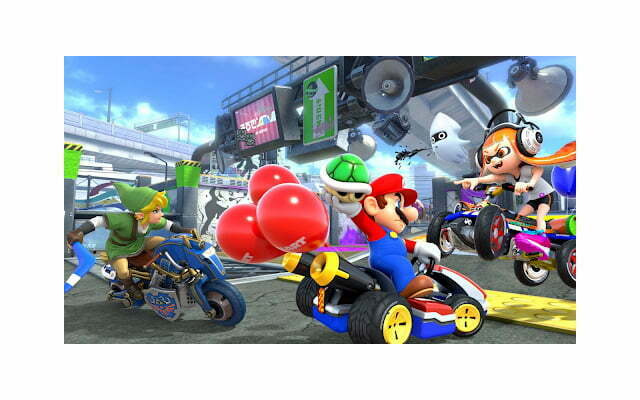 Mario Kart 8 Deluxe is also perfect in terms of visuals, with character design, color mixing style, or deeply designed levels. The sound of the game is also so great that players can't take their eyes off Mario Kart 8 Deluxe. This is one of the best online multiplayer games to experience in 2022.
Minecraft
Referring to the multiplayer survival game that has stormed the game market today, it is impossible not to mention Minecraft. Players will be impersonating any character in an open world. You will be free to do what you wake up to in that world. Players will have to survive in an unspoiled world with other diverse terrains such as: plains, hills, caves, swamps, deserts, forests and different bodies of water, .. you will have to find Feed yourself, craft weapons to fight enemies or other players.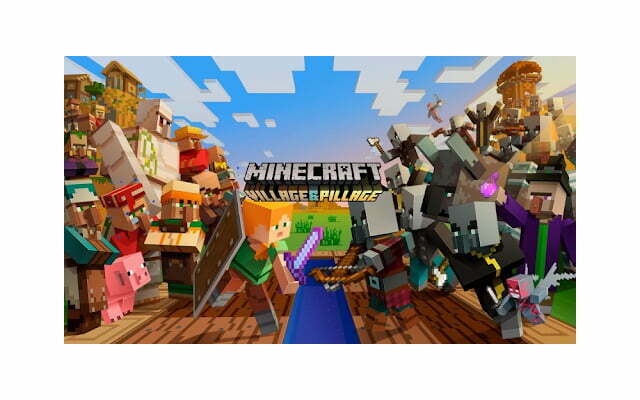 In the Minecraft world, everything is composed of 3D squares with various materials such as: soil, water, stone, wood, gold… with about 36 million squares. If you just glance at the images in Minecraft, you may think that this game is low quality, but if you have experienced it once, you will have a different view of it. This is really an online multiplayer game worthy of your experience.
Monster Hunter Rise
Monster Hunter Rise is an extremely attractive monster killing action game. The game is set in a Kamura village, the player will have to perform various tasks to prepare for the return of The Rampage. You must try to protect and provide food for the village during the match.
A plus point in the Monster Hunter series of games is the extremely diverse and unique weapon system. There are a total of 14 different weapons in the game for players to choose freely. Each weapon has its own unique points, from large swords with huge power, small double-edged swords with fast attack speed, lance, bow, hammer, ..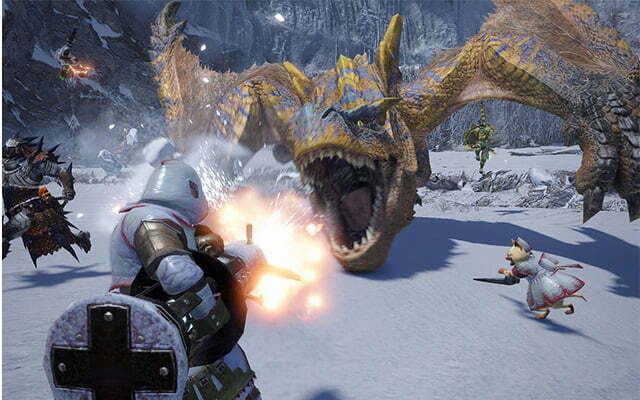 Besides the game content, you will once again feel overwhelmed and surprised by the graphics of Monster Hunter Rise, the graphics platform of Monster Hunter Rise is extremely outstanding, the details from as small as the brick above. The walls, the patterns on the costumes, and the village scenery are all meticulously and completely invested. This is really the best multiplayer game that you should not miss in this 2022.
Mortal Kombat 11
Referring to the super hit fighting game in the fighting game village, it is impossible not to mention the Mortal Kombat series. Mortal Kombat 11 is the latest installment of this hit series. In the game, there are countless characters for players to choose from, each character has its own strengths and weaknesses so that players can freely choose.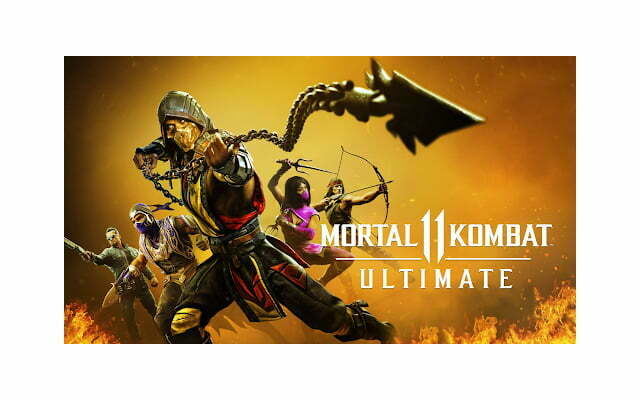 Compared to the previous parts, the graphics of Mortal Kombat 11 have been greatly improved, the character's fighting movements look smoother, more beautiful and soulful, not stereotypical like the previous games. Extremely realistic sound, combined with images will give players a great experience.
However, this is a game with many scenes of violent killing and gore, although it has reduced the amount of meat scattered everywhere, it still makes gamers feel prickly every time they see it. However, from the highlights in the game, this is also a game that you should experience.
Tekken 7
Tekken 7 is one of the super action and fighting games, the 7th game in the popular Tekken game series. Players will not play the role of the main character Kazuya or Heihachi but will become a reporter with the goal of investigating two notorious forces, Mishima Zaibatsu and G Corporation. You will follow in the footsteps of the characters you meet, go to important places, meet the main characters and then admire the eye-catching duels.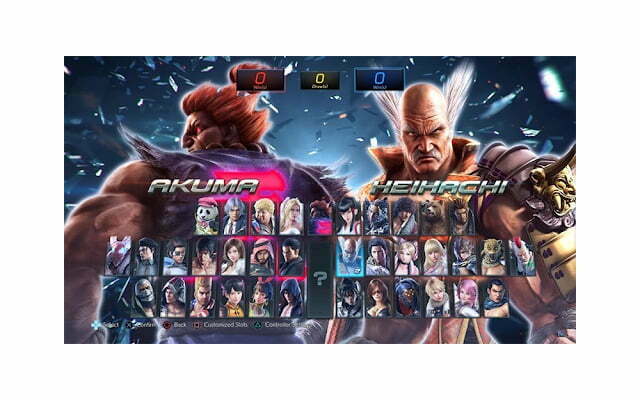 The sound of Tekken 7 must be called extremely perfect, the background music has an extremely vibrant and dramatic rhythm, and the characters in the game are voiced extremely inspirational, showing their own styles. each character. Tekken's graphics are also extremely well-invested, each character is extremely detailed and beautifully designed to give players the best experience. This is worthy of a Free multiplayer game that you should not miss.
Above is the sequel to the best multiplayer games in 2022 that we have compiled for you. Hope you will find yourself a favorite game and have a great experience with it.
Source: