Famous Hollywood female singer – Rihanna, intrigued fans when she opened up about her life through books and documentaries about herself. This female singer emerged as a phenomenon at that time, causing riots and shaking all Billboard charts and other music awards. So what about her life that until now she has officially announced to the press. Follow the article below!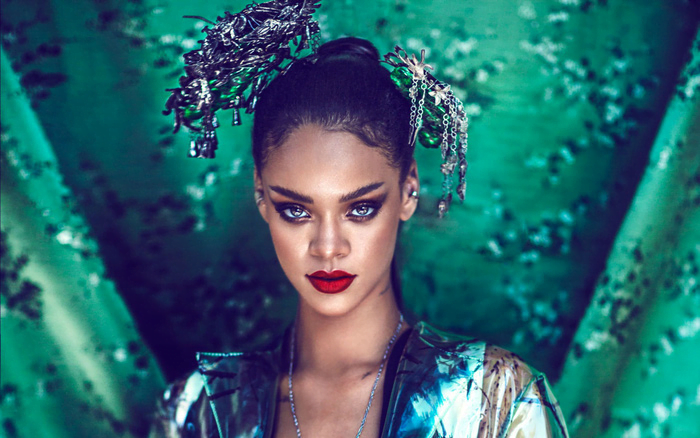 A Brief History of Rihanna's Success
In 2005, she emerged as a phenomenon since the release of the song "Pon de Replay", Robyn Rihanna Fenty, at the age of 17 she entered the music industry with the release of hot hits. Since then, the whole world seems to be watching her grow day by day, becoming one of the richest female singers in the world.
That is how rich and successful she is, but hidden behind her huge fortune and status are painful hidden things in the past. She has always kept her private life private, although many people still know about her story due to her popularity.
7 hit songs that made Rihanna famous.
Read more:
Rihanna grew up in an unhappy family
She was born and raised in Barbados in 1988, a land full of sun and wind, where the countryside is with kites. It sounds so peaceful, but the house she grew up in is not as peaceful as that land. Her childhood was affected by her father's drug addiction and drunkenness, so from a young age her family was not as happy as the family of other friends. It was probably also one of her childhood haunts.
His addiction and drunkenness made him always short-tempered, she always felt the temperature of her house heating up every time he came home drunk, which led to domestic violence, which No family wants it. Her father often beat her and her children, leaving the family in a constant state of standing on the edge of fatigue and fear. Her father like that made her parents' marriage unstable, their unhappy marriage officially ended when she was just 14 years old, her parents divorced.
Rihanna gets bullied at school
Being famous and loved all over the world is that, but the school girl's childhood was not like that. The reason for her bullying was mostly due to the color of her skin as well as the poverty of her family. She was born and raised with a characteristic brown skin, so as she grew older she was often bullied by her white classmates, adding that the last name Fenty was the symbolic surname of the poor Irish group, this combination has helped leading to being teased during her school days.
However, that constant bullying has formed her strong character and tough, towering ego. She does not accept being teased, so she often fights back and uses her fists.
Prolonged headaches because the family is not happy
Quarrels and domestic violence have caused the singer's prolonged headache. During that childhood, the headache persisted continuously, causing everyone to gradually suspect that she had a tumor in her head, but every time she went to the doctor, the results were negative. The family's not so peaceful makes her more and more quiet and separate from friends at school.
In pressure from family and friends, her grades and health plummeted like a slide. She was always an A student with excellent grades, but ever since she suffered from a persistent headache that caused fatigue, she couldn't concentrate on her studies. The headache lasted from the age of 8 to the age of 14, the doctors were all given up on her condition, thinking it was irreversible, but her headache really stopped after her father Her mother is divorced. So it can be shown that family is an important part of shaping a child's personality, it is also the cause of that persistent headache.
Ever been abused by an ex-boyfriend
There was a time when the whole world was shaken with images of her being bruised, her face covered with bruises. And the person who caused that situation was none other than her ex-boyfriend Chris Brown. The pictures spread all over the internet, causing the two of them to get into a lot of trouble at that time. That boyfriend took the appropriate punishment, standing 45 meters away from her, and only when the event was standing 9 meters away from her. He also had to pay a huge fine to compensate for her physical and mental harm.
However, for some reason, it was painful, so tired, so the image was lost. However, she still wants to defend and protect her ex-boyfriend, it is she who proposes to reduce his punishment. Not only that, she was blinded by love, so she decided to return to the person who abused her the whole time. He was the love she loved the most at that time.
The pent-up frustration she decided to sue her father
When famous, it is inevitable to fabricate, speculate 100% false news and Rihanna is no exception. While working for a Rolling Stone cover, Rihanna happened to be at the same restaurant as Colin Farrell, who was involved in a scandal that wasn't very practical to her. The person was rumored to be having a romantic dinner together and have a relationship after that.
The bad things would have stopped there if it weren't for the fact that her father spread news to the tabloids to make money after she broke up with Chris Brown. It was such a shock to her, she even had to question what she was with this lousy father. The man who broke the happiness of his own family with his own hands and now once again broke the happiness of his daughter.
Few people can believe that there is a father who uses his daughter's name and brand to do wrong things with the law behind. She was so resentful and angry that she and the company representative had to file a lawsuit for his actions. Specifically, her father and his business partner, Moses Perkins, allegedly used her name and brand, Fenty, to make money.
Rihanna is pregnant with male rapper A$AP Rocky
Recently, she made the whole world shaken, when walking around with her boyfriend with her pregnant belly. It can be seen that she is in the last months of her cycle and is about to have her first child. She even went to the red carpet with her big pregnant belly as well as her increasingly revealing fashion style. However, she seems to be very happy with herself now, and the two are also expecting the birth of their first child.
The life of the female singer has ups and downs continuously, success in her career is like that, but she is lacking in love, love is not smooth. And perhaps now Rocky appears to heal her wounds.
Sources: